I am SO very excited about Holly's Fresh Coat FRIDAYS!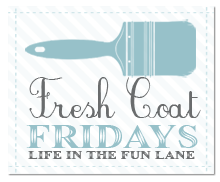 So here is my submission...Nathaniel's Mom actually built him this little side table when he was a teen :) It's very well built and since it's going to be with us for a long time I thought I'd make it a little more our style... I've been itching to use the truck again to go find a new piece but I've promised myself to do all the pieces I currently have before I can go out and get another!
I fell in LOVE with the hardware on one of Holly's recent furniture reinventions and so I thought I might try the same pulls on this little guy!
I even made my first attempt at notching my own key-hole...It turned out a teeny bit crooked but I decided I kinda like it and it adds a little charm...
I really love the chunky hardware...when I first saw them on Holly's blog I fell in LOVE...I think this is the FIRST piece I've done where I picked the hardware BEFORE I even knew what I'd be painting LOL!
I know it's hard to tell because my walls are so grey but the dresser itself is actually painted a soft grey and not white...
Another bonus about doing pieces we already have is that we have a spot for it hee hee! I'm not going to lie...I've recently been looking on real estate websites to find a bigger home...I would HOARD furniture projects if I could (and I need more room!!!)...somebody stop me :)...
I can't wait to check out everyone's submissions and I'm sure I'll get a ton of new inspiration!!! I'm already thinking of my next project for next Friday!!!